When I was an undergraduate student I worked in my college library's Visual Resource Collection in a somewhat similar position to the one I'm in now. The VRC was primarily a resource for my school's Art History Department (my major), and their main asset was row upon row of metal filing cabinets filled to the brim with 35mm slides.
As the years went on, we unsurprisingly saw more and more art history professors moving towards digital teaching tools. As such, the VRC department had no choice but to move with the times and focus on the digitization of their existing collection.
This was my first experience scanning 35mm slides, and while it fundamentally follows the same principles as scanning anything else, there are some considerations to be made. The main question is one of scanner preference: mechanical feed or flatbed?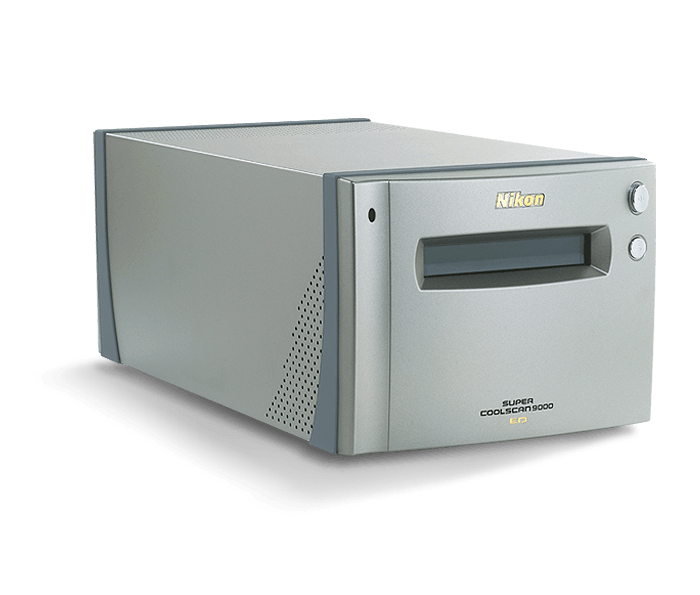 Nikon Super COOLSCAN 9000 ED; a professional-quality mechanical feed slide and negative scanner I used at my previous job. Image copyright Nikon USA.
Mechanical feed slide scanners have several distinct advantages: they are smaller and very easily portable; they are often designed to accept large batches of scans in a workflow environment; and they require very little adjustment or calibration on the user end. However, there are drawbacks as well. Much like the mechanical feed photo scanner, it is prone to dust. This dust is significantly more troublesome in the final product due to the small size of the originals. Additionally, the user-friendliness can sometimes translate to poor customizability. And of course, the slide scanner's utility is limited to 35mm slides or film negatives.
The Epson Expression 10000XL, with transparency unit and slides ready for scanning
While flatbed scanners are designed with larger printed material in mind, often times these too can accept slides or photo negatives with certain peripheral attachments. In the Dartmouth Library Digital Production Unit, our Epson Expression 10000XL flatbed scanner has such attachments. The biggest and most crucial is the transparency unit. This piece replaces the original scanner cover with what is essentially a lightbox, backlighting the slides and providing consistent illumination. Additionally, there are slide and negative holders that help keep your images consistent.
The biggest drawback to the flatbed scanner is that sometimes the scanner itself has not been designed for the high-resolution settings required to scan such small objects at archival quality. Usually a good resolution for 35mm slides is 2,400 dpi; four times the resolution of our usual scans. A good high-quality scanner should have no problem with this, but many consumer-level scanners simply can't scan a resolution that high.
While our Digital Production Department has not had much reason to incorporate slide and negative scanning into our workflow thus far, it can't hurt to be prepared for whatever digitization projects come our way.